Bearly Emmerich Koko VG88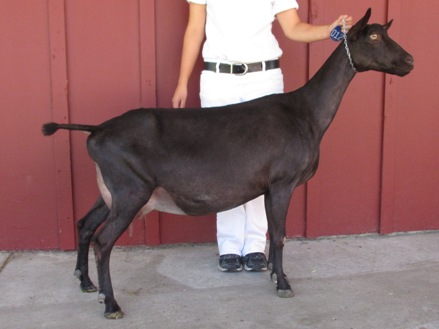 DOB:
March 2010
Color:
Black
Sire:
*B Bearly Pyr Emmerich
SS: *B Bearly TRI Pyrenees
SD: Bearly CJ Fernie 2*M EX90
Dam: Bearly Kim Isabelle 2*M EX91
DS: One*Oak*Hill Sequel Kim
DD: Bearly Renegade Delta 1*M VG88

LA: 02-06 88 VVVE

DHI: no record


Koko is a well balanced doe with a superb udder. She's clean, angular, open throughout. Her udder is correct in all respects. Koko should only improve with age.
---
Doe Family Lines
GCH Bearly Rebellious Whimbrel 2*M EX91
SGCH Bearly Tierro Bijou 3*M EX92
Bearly Emmerich Koko VG88
Bearly Emmerich Turtle Bay

Hope Family:
Dixie-Does Texas-K Hope Chest 1*M EX91