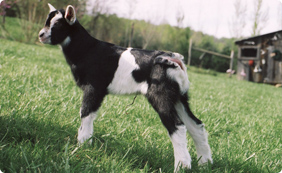 Sires
The Bearly breeding program incorporates many AI sires as well as live sires residing here on the farm. All bucks used are expected to throw structurally sound, productive offspring. Artificial Insemination (AI) permits greater flexibility, but the boys here at the farm are equally important. Not every AI catches!
---
Sires
Live
White Whale XperienceSunSquirt
Redwood Hills Tribute Rhythm
A.I.
SG +*B Nixon's Vangaurd Xenith
One*Oak*Hill Dragonsault
*B Redwood Hills Ember Sierra
SGCH ++*B Shahena'ko Sumo Tierro
SG ++*B Sodium Oaks Wampum VG87
SG +*B Sunshine Rehma Reprise VG88
SG ++*B Sunshine Seign Sedric VG88
++*B Sweet Dreams Cadillac Jack VG89
*B Sweet Dreams CS Swale
SGCH ++*B Tangleroot Royal Image EX90