Leverett Acres Holly 2*M EX90 (French)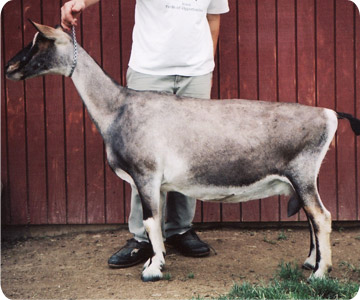 DOB:
March 1997
Color:
Chamoisee
Sire:
GCH ++*B Nodaway Dragon Slayer
SS: SGCH ++*B Nodaway Moon Dragon
SD: GCH Nodaway Sorcererís Kibbitz 2*M
Dam: Nodaway NLE Daffodil 1*M
DS: *B Nodaway Loren Eiseley
DD: Nodaway Lunar Dream
YSA: Not scored
LA: 08-03 90 EEEV (dry)
DHI: No official records


Holly was acquired as a mature doe (Many thanks to Caroline Leverett.) and lived here through retirement. Unfortunately, Holly suffered an udder injury as a young doe and her show career was limited. However she still proved herself on linear appraisal and through her offspring. Holly was correct in general appearance, moving about with ease throughout. As an eight year old, she scored E in shoulder assembly, front legs, back, rump, and rear legs. Many of these strengths can be seen in her daughter Alex, pictured below.
---
---
Doe Family Lines
Ellie Family:
GCH Bearly Rebellious Whimbrel 2*M EX91
SGCH Bearly Tierro Bijou 3*M EX92
Bearly Emmerich Turtle Bay

Hope Family:
Dixie-Does Texas-K Hope Chest 1*M EX91
GCH Bearly Rebellious Magpie 2*M EX91

GCH Bearly Rebellious Mulka 2*M EX91

GCH Bearly Savoy Mousehole 2*M EX92

Bearly Anaehoomalu Patrizzi VG86

Echo Family:

SG Cherry Glen Ideal Echo 1*M VG87

Bearly Rhythm Emilia-Romagna G+84

Holly Family:

Leverett Acres Holly 2*M EX90
SGCH Bearly Reprise Alexandria 3*M EX92
Bearly Empress Alalakeiki

Tetrazinni Family: