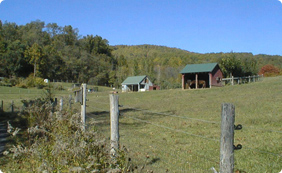 Welcome to the virtual home of Bearly Alpines. We hope you enjoy the website and, even more so, the goats!
The farm is nestled against the Blue Ridge Mountains in beautiful Sperryville, Virginia. Situated on 25 acres, we raise goats, hogs, guinea fowl and chickens. Five wonderful Anatolian Shepherds watch over the property. We share our goats' milk with the hogs and use it to make cheese, ice cream and a variety of other goodies.
As it seems, the goats are the primary attraction here. Beginning with our original wether, Jake, up through the present collection of Alpines all have had unique and endearing personalities. The herd has grown from a small 4-H project to a somewhat larger, elite herd of American and French Alpines. The first two Alpines were purchased in 1999. Currently, we breed about ten does annually. The goal of the breeding program is relatively clear-cut: to produce healthy, consistent animals that perform well in a variety of settings. Dairy character and structural correctness are the essential bases for reaching such a goal. The herd was on DHI test through 2008 and has been appraised multiple times. Many of the DHI records are abbreviated due to other committments in life and a desire not to dump milk as we lack any commercial outlet. Each year, we attend several shows. Whenever possible, we make the trek to the ADGA National Show.
In the effort to breed and market productive animals, herd health is of utmost significance. Our herd is certified and accredited. The entire herd is tested for CAE annually and we've not had a CL abcess. Everyone gets vaccinated for CD & T and Rabies on a regular basis. Routine deworming is accomplished based on fecal results and weather conditions. In the spring and summer, we practice rotational grazing. The goats have access to dry and airy barns and spacious pastures. They are supplemented with an 18% protein grain, beautiful orchard grass/timothy hay, and alfalfa when appropriate. Loose minerals are always available. If you have any questions about the goats, please contact us.


Highlights from 2012
Alex finally finished her championship with a Best In Show under Jennifer Lohman Peterson while milking through. As of December 2011, Ben is herd manager at a dairy in west Sonoma County milking 120-150. The herd is split between California and Virginia. Doe's location is marked on the sales page. The California goats were appraised in 2012 with Paris and Nesse going EX for the first time. *B Bearly Emperor Nimitz sired the Grand Champion Junior Doe and the 1st place milking yearling at the CA State Fair, both owned by Tony De Mello. *B Bearly Black Hawk Esk sired the Reserve Grand Champion Senior Doe at the North Carolina State Fair, owned by the Lanier family. It's always pleasing to see Bearly genetics performing well in other herds.


Highlights from 2010
The year proved to be another one of adventures. I left the farm in VA to work at Redwood Hills before the first of the year. My departure came just before a fearsome winter launched into full fledged absurdity. Several blizzards later, it turned out to be the snowiest on record here in the mid-Atlantic. This was followed by a brutally hot summer and fall. Sue, Joe, and Ryan had their work cut out for them and performed more than admirably. The herd went on owner-sampler DHI, attended the National Show in Louisville, and then capped the year off with the NC State Fair in Raleigh. The highlights of the year included another 4000lb lactation from Alex, top ten placings at Nationals for Nesse, Mouse, and Bijou, a very strong showing for all in Raleigh, and the addition of a fancy young buck known around the farm as "Thumper." Alex's second 4000lb gives her a singular distinction within the breed. She is the only Alpine EVER to have two official records exceeding 4000lbs milk and have been given a Final Score of 92 twice. At Nationals, Ryan teamed up with Bijou to place 3rd in junior showmanship. In Raleigh, not only did Bearly owned goats do well, Bearly genetics were winning for a number of herds. The Junior Grand Champion (owned by Emily Albright) was sired by an Alex son, Alton, the full brother to Avon. The first place 2 year old (owned by Spinning Spider Creamery) was sired by a Mulka son, Penrith. The Reserve Grand Champion Senior Doe was SGCH Bearly Rebellious Wistaria 2*M EX91 also owned by Spinning Spider Creamery. "Thumper" was very kindly made available to me while I was working in California. He is the son of SGCH Redwood Hills X-Rated Rima 11*M, a doe of extraordinary promise and quality. My time at Redwood Hills was well worthwhile. I learned a great deal, made many friends, enjoyed the beautiful Sonoma County weather, and am grateful for my time there. I am back in Virginia now and, as always, look forward to a new year of beautiful animals and adventures great and small.


Highlights from 2009
I freshened only eight does this year and many of them later in consideration of my final term of senior year at the University of Virginia. Midsummer brought the exciting news of Provence's acceptance in the Spotlight Sale. She is a fancy doe who should perform well in her own right and reproduce her strengths. The genetics are proven! As of the latest type and production evaluations, she has positive PTI's for both type and production. In July, I flew out to the National Show in Sacramento. The youth events went well. Thank you to Abby Carlson, Sarah Hazeltine, and Tori Kennedy for being great teammates in the fitting competition and working towards a first-place finish. Thank you to Sheila Nixon for her hospitality during my stay at Cal-Expo. Finally, the Alpine show was a pleasure to watch. The productivity and structural soundness of the champion lineup was inspiring. On to other topics... For the first time in three years, I have brought in an outside buck. Nate is Nodaway breeding and lined up on some historic animals. Though not on test this year, Fernie qualified a second time for the breed leader list based on last year's lactation. Out of the ordinary, the herd was appraised in September, an ideal time to measure goats for their true dairy quality. The session went well; average Final Score on the milking does was 90.8. October brought Convention and the Spotlight Sale. Bearly TRI Provence sold to Laurie Acton for $1600. Many thanks to Laurie and others who bid on Provence and also to everyone who helped prep animals and put the sale on. The news of the year broke shortly after Convention: I accepted a position on the dairy at Redwood Hill Farm and Creamery in Sebastopol, CA. I am excited about the opportunity and looking forward to the year ahead though it will bring changes to the herd here in VA. My mom, Sue Garvin, and younger brother, Ryan Garvin, will be taking over full-time management and care of the goats. They plan to freshen out a comfortable number of does and hope to be in Louisville for the National Show come June.


Highlights from 2008
While rising fuel prices and attending college abbreviated the show schedule, the does have continued to milk and do well on the sporadic trip from the farm. The early spring saw Alex complete a 305 lactation of 4330 lbs. Fernie almost tipped the 4000 lb mark with 3990 lbs milk and 144 lbs fat. Both cracked the Top Ten with these lactactions, Alex in milk and protein, Fernie in butterfat. Two club shows this spring netted 6 GCHs, 4 RGCHs, and 2 BISs. The highlights of the summer came in July. At the National Show, every goat made the cut, Fernie won the 305 High Fat Award, and Maggie, Bijou, and Fernie combined to place 4th in Best Three Senior Does. In the Youth Events, Ryan showed me up and placed 5th in Junior Showmanship! For a fourth year, I won the Steven Schack Outstanding Youth Award as the premier youth Alpine exhibitor. A week after returning from Louisville, on a *very hot* Sunday afternoon, the herd was appraised for the sixth time. The does' average Final Score was 90.9; none earned anything less than Good Plus in any structural category; all with two or more freshenings scored EX. At the one show we attended this fall, Bijou finished going GCH and BIS in the youth portion while Fernie went GCH in the open. The year was capped off by the announcement that I was awarded one of the annual ADGA/Jim Morrison Scholarships.