Dixie-Does Texas-K Hope Chest 1*M EX91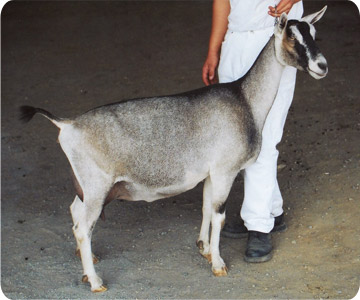 DOB:
March 1999
Color:
Chamoisee
Sire:
*B Bayview H&D Texas Tornado
SS: +B Udder-Way Herason
SD: GCH Bayview Dallas 2*M
Dam: Bayview NIP Julie's Keepsake
DS: *B CH Nodaway DA Influence Peddler
DD: GCH Bayview DC Julie 5*M

YSA: Not scored
LA: 03-03 86 VVVV
04-04 89 VEVV
05-03 87 +VVV
06-04 89 VVEE
07-03 90 EVEV
09-04 91 VEEE

DHI: 07-00 177 1040 5.1 53 3.0 31
08-01 140 940 4.4 41 2.8 26

Show: 2001: 13th place 2 year old ADGA National Show
2006: 8th place 7&over ADGA National Show


Hope has displayed wonderful longevity as the result of remarkable general appearance and a classic Alpine attitude. She is beautiful to watch on the move. Her progeny have the same strength in general appearance coupled with more total milk. They are uphill with good front-ends and excellent feet and legs. Their udders are well attached and their milk consistently tests high in butterfat. And if you say the wrong thing, she'll let you know about it. So don't! Pictured below are two daughters currently in the herd, GCH Bearly Rebellious Magpie 2*M EX91 and GCH Bearly Rebellious Mulka 2*M EX91.
---
---
Doe Family Lines
Ellie Family:
GCH Bearly Rebellious Whimbrel 2*M EX91
SGCH Bearly Tierro Bijou 3*M EX92
Bearly Emmerich Turtle Bay

Hope Family:
Dixie-Does Texas-K Hope Chest 1*M EX91