SG Bearly CJ Fernie 2*M EX90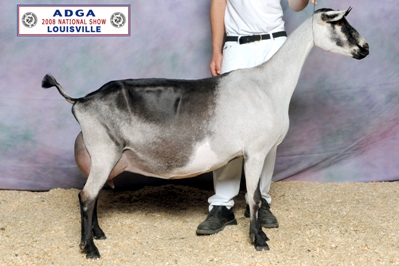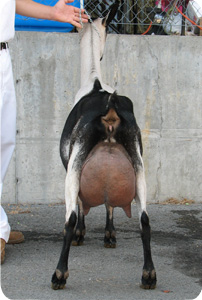 DOB:
March 2004
Color:
Cou Blanc
Sire:
++*B Sweet Dreams Cadillac Jack
SS: SG ++*B Sodium Oaks Sasin
SD: GCH Rocking M Thomasine 3*M
Dam:SG Cherry Glen Ideal Echo 1*M
DS: *B Cherry Glen Radical Idea
DD: SG Cherry Glen Radical Eiffel
YSA: 00-03 +EcEc V
01-04 VVEc V
LA:02-03 89 VEEE

04-04 92 EEEE (EEVV+EEV)

05-06 90 VEEE (E+VA++E+)
DHI: 02-00 295 2480 3.7 92 3.1 78
03-00 305 3990 3.6 144 2.8 113 *TOP TEN*
ext. 313 4070 3.6 147 2.9 116

04-00 305 3660 3.2 116 3.0 109 *TOP TEN*
Show:
2006: 14th place 2 year old ADGA National Show
2008: 12th place 4 year old ADGA National Show & winner of the production award for High 305 Fat, 1x GCH


Fernie is long and tall. She has an extraordinarily dairy frame with the strength to complement her length. Her udder is quite similar to her damís in structure. It is well attached and the teats are nicely placed and delineated. As a three year-old, she proved herself a true dairy doe, turning in a 305 day lactation just short of 4000 lbs; her 144 lbs butterfat qualified her for the breed leader list. As a four year old, she again made the breed leader list with 109 lbs protein. Pictured below is a daughter currently in NC, Bearly BJ Epiphany.
---
---
Doe Family Lines
Ellie Family:
GCH Bearly Rebellious Whimbrel 2*M EX91
SGCH Bearly Tierro Bijou 3*M EX92
Bearly Kim Isabelle 2*M EX91

Hope Family:
Dixie-Does Texas-K Hope Chest 1*M EX91
GCH Bearly Rebellious Magpie 2*M EX91

GCH Bearly Rebellious Mulka 2*M EX91

Bearly Savoy Mousehole 2*M VG89

Bearly TRI Paris

Echo Family:

SG Cherry Glen Ideal Echo 1*M VG87

SG Bearly CJ Fernie 2*M EX90



Holly Family:
SG Bearly Reprise Alexandria 3*M EX92