*B Bearly Sedric Mylo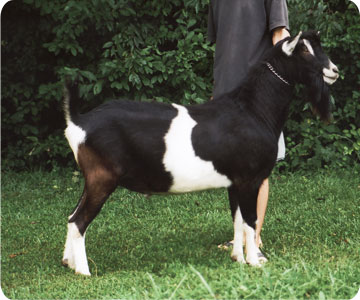 DOB:
April 2006
Belted Sundgau
Sire:
SG ++*B Sunshine Seign Sedric VG88
SS: SG ++*B Sunshine Rehma Revive VG88
SD: SG Sunshine Aries Seign 8*M EX92
Dam: Dixie-Does Texas-K Hope Chest 1*M EX90
DS: *B Bayview H&D Texas Tornado
DD: Bayview NIP Julie's Keepsake
YSA: 00-02 EcEcV Ec
LA: 02-03 90 VEE
03-05 89 VEE (VVVVVEV) (in rut)

Mylo is a promising buck. Sedric had the 1st place sr. get-of-sire at the 2004 Nationals. Hope has repeatedly produced fancy daughters. Mylo himself is very correct. His head is nearly ideal and his hind end is equally remarkable.
---
---