*B Cherry Glen Hunter Rebellion VG87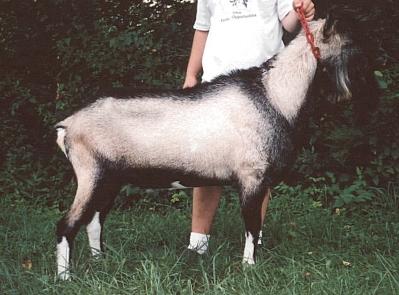 DOB:
February 2000
Color:
Chamoise
Sire:
*B Cherry Glen Radical Hunter
SS: GCH ++*B Tempo Aquila Free Radical VG87
SD: GCH Cherry Glen Haiku's Holly 1*M EX91
Dam: GCH Cherry Glen Cinnahead Roxanne 9*M EX90
DS: SG ++*B PM Thunderhead SHST Headliner VG87
DD: GCH Stumphollow TS Cinnabar 8*M VG89
3rdDam:SGCH Little Orchard X Vicki Lynn 7*M EX90
4thDam: SGCH Little Orchard AP Victorie 6*M VG88
5thDam: SGCH Sodium Oaks SFL Viola 5*M EX90
6thDam: GCH Sodium Oaks Royal Sorghum 4*M VG88
7thDam: GCH Sodium Oaks Kiwi Mallow 3*M EX91
YSA: Not scored
LA: 03-04 87 VE+

Very early in my goat venture, Diane Kirsch kindly sold Rebel to us. He comes from a dam line of extraordinary depth. He was a wonderful buck who consistently produced structurally correct offspring. At least four daughters have LA scores of 91. They are most notable for their superb feet and legs and flowing grace.
---
---